Captain Loren V. Heckelman, U. S. Navy (Ret.).
HRCMOAA Transition Assistance Liaison
Loren can be reached at Loren.Heckelman@cox.net.
Click on this link to send an email to Loren.Heckelman@cox.net and use the subject 'Subscribe to HRCMOAA Jobs Network'. You will then receive occasional email information about job fairs, transition information and career opportunities. Use the subject 'Unsubscribe from HRCMOAA Jobs Network' and your address will be removed.

Links provided here are for information only and are not endorsed or verified by the HRCMOAA. As with any site on the web, individuals must use care, safe web surfing practices and form their own opinions about the material presented here.
MILITARY-FRIENDLY JOB FAIR
Virginia Beach Convention Center
1000 19th Street, Virginia Beach
February 23 - 9 am to 12:30 pm
February 23 Corporate Gray Job Fair in Virginia Beach
Meet Dozens of Companies that are Hiring NOW!
If you're seeking employment, be sure to attend the February 23rd Corporate Gray Military-Friendly Job Fair at the Virginia Beach Convention Center. Interview with dozens of great companies and schools, including: HP, Carter Machinery, Newport News Shipbuilding, State Farm, Alban CAT, Cayce/Reilly School of Massage, Mountaire Farms, AMVETS, Kokua Support Services, Durham Police, ECPI, Stratford University, Great Lakes Truck Driving School, L-3 Unidye, Paramount Builders, AECOM, and more!
Job Fair hours are 9 am to 12:30 pm; career transition seminar starts at 8 am.
Job Fair Suggestions:
• Research the companies in advance; know their staffing needs
• Know your resume and be able to talk to it
• Be able to clearly articulate your career interests
• Practice and perfect your 30-second elevator speech
• Be prepared to ask smart, research-based questions
• Ask the recruiters for their business card
• Bring many copies of your resume; upload the most current
• Business attire recommended; military uniform is also fine
• Be sure to register in advance for the job fair
Registration:
To register, visit www.corporategray.com/login
and login using your username and password.
Next, click the "Job Fairs" link on the menu bar and then the "register" link for the February 23 job fair.
This will ensure you receive the job fair Employer Directory in advance. And if you upload your resume, the participating companies will have early access to it.
Questions? Ph: (703) 690-6381
Email: Carl@CorporateGray.com
Transition Workshop
Norfolk, VA
February 23-24, 2016
The USO Transition 360 Alliance is an initiative to help U.S. military personnel and their families successfully transition into civilian life after their service ends. The alliance leverages the USO's global resources and the programmatic expertise of additional nonprofit organizations to provide a broader range of impactful programs and services to support troops and military families in: developing a plan for the future; pursuing new career paths; and strengthening their families and community networks.
Hire Heroes USA, a USO best-in-class partner, has a proven record of success empowering transitioning U.S. military members, veterans and spouses with the tools they need to find meaningful employment. As part of the USO Transition 360 Alliance, Hire Heroes USA works one-on-one with military members, prior to their end of active service, to empower them to transform their military service into civilian success.
These free transition workshops assist military members and their spouses as they transition from the military into civilian life. During the two-day workshops, clients develop a strategic plan; create a resume that conveys experience and value to employers; learn effective job search, application, and interview techniques; and gain networking skills. All participants are offered follow on, one-on-one career coaching throughout the remainder of their job search.

When
Tuesday, February 23, 2016
Wednesday, February 24, 2016
9:00 AM - 3:30 PM Eastern Time
Where
Sheraton Norfolk Waterside Hotel
777 Waterside Drive
Norfolk, Virginia 23510
For more info and to Register Click Here
Here's a poster with workshop schedule and details
Service Members, Veterans and Military Spouses

and Education Expo
Tuesday, March 15, 2016 - 9 to 1 p.m.
More than 45 employers attending
The Westin Virginia Beach Town Center
4535 Commerce St,Virginia Beach, VA
Visit www.vaacme.org for more information
Call your local Fleet and Family Service Center for a resume class, to review your resume, or to schedule a mock interview.
Call 757-433-2912 for more information.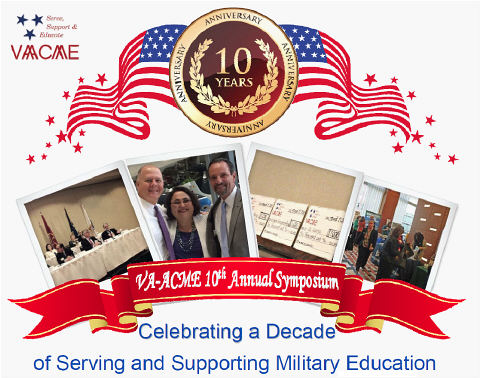 March 15-17, 2016
Visit www.vaacme.org for details
Transition and Career
MOAA
Career Center
The time eventually comes for everyone who serves in uniform to take "the next step." The transition from military service to civilian employment can be a time of anxiety because it requires knowledge and skills not typically required while on active duty. Fortunately, there is a trusted source you can turn to: MOAA's Career Transition Center.

What does the Transition Center offer? A number of comprehensive presentations, tools and events specifically designed to increase your knowledge and preparedness. The Marketing Yourself for a Second Career presentation shows how to develop self-marking techniques, including LinkedIn strategies, effective interview skills, building a resume, and negotiating salary and benefits.

We also offer valuable benefits and financial advice for every stage of your career and life. MOAA's presentation on the Post-9/11 GI Bill highlights key elements of this widely-used benefit as well as the latest changes to policies and the law. Evaluating Employee Benefits will teach you how to understand and prioritize military and civilian benefits for personal and career transitions.

The MOAA Transition Center regularly provides career transition webinars to complement the above offerings that are open to the extended military community. MOAA sponsors a series of both live and virtual career fairs for real time networking opportunities. The Transition Center also holds various events designed to facilitate professional networking and get you in the loop---a critical step since an estimated 75% of employer hires occur through networking.

Finally, the Military Executive Transition (MET) seminar is a one day deep dive for senior leaders in transition that focuses on culture shift, self-marketing, salary negotiation, working with recruiters, and optimizing your efforts for career success. For more information about all of the services and programs described above, visit

MOAA Career Center.

Want more ideas to help your transition?

Consider American Corporate Partners (ACP). A nationwide non-profit that connects transitioning veterans with experienced professionals for one-on-one mentorships, ACP career coaches are ready to assist with revising resumes, practicing for interviews, networking, review business plans and exploration of career options.

America's business leaders want to thank you for your service by providing tools to advance your career. The program is free of charge and open to post-911 veterans and service members of all paygrades.

To apply, visit http://www.acp-usa.org/mentoring and mention this MOAA referral.
Continue The Mission.
Continue To Serve.
You've served in uniform with utmost distinction. Now take the step and serve your country as part of the nation's premier intelligence agency. At the CIA, your remarkable skills and ingenuity can help provide critical information to the highest levels of government. Here, you'll engage in challenging, fulfilling work with a diverse group of individuals dedicated to achieving mission success.

Join an agency of unsung heroes, who like you, believe there is no higher calling than protecting family, friends and country.

Visit cia.gov/careers and explore the many opportunities, which include:
Operations officer
Military Analyst
Science, Technology & Weapons Analyst
Security Professional
Protective Agent
Special Skills Officer
Police Officer
Technical Security Officer
Applicants must have US citizenship and the ability to successfully complete medical examinations and security procedures, including a polygraph interview.

An equal opportunity employer and a drug-free workforce.
How To Get A Civilian Job In The Navy
Click below for a "gouge sheet" assembled by the Naval Acquisition Career Center
Click Here for Navy Job Tips