Captain Loren V. Heckelman, U. S. Navy (Ret.).
HRCMOAA Transition Assistance Liaison
Loren can be reached at Loren.Heckelman@cox.net.
Click on this link to send an email to Loren.Heckelman@cox.net and use the subject 'Subscribe to HRCMOAA Jobs Network'. You will then receive occasional email information about job fairs, transition information and career opportunities. Use the subject 'Unsubscribe from HRCMOAA Jobs Network' and your address will be removed.

Links provided here are for information only and are not endorsed or verified by the HRCMOAA. As with any site on the web, individuals must use care, safe web surfing practices and form their own opinions about the material presented here.
Scheduled Career Fairs and Open Houses
Military Friendly Job Fair
Virginia Beach * February 11
and
Springfield, VA * March 12
Details at www.CorporateGray.com
You are invited to attend the February 11 / Virginia Beach and
March 12 / Springfield, VA "Military Friendly" Job Fairs

Meet face-to-face with dozens of top employers seeking military talent
Interview for local and nationwide jobs across multiple industries
Attend a first rate career transiiton seminar starting at 8 am
Bring many copies of your resume. Your resume was uploaded on [2009-10-26 18:26:26]; if the value is blank or old, upload a new one
Business attire recommended; military uniform is also fine
Complimentary parking and photocopy service
Pre-register to receive the Job Fair employer directory in advance!
To pre-register, visit www.CorporateGray.com/login and login using your username and your password (there is a reminder link if needed). Next, click the "Job Fairs" link on the menu bar and then click the "register" link corresponding to the desired job fair. Free to all job seekers!


QUESTIONS? Phone: (703) 690-6381
Email: Carl@CorporateGray.com

Military to Maritime Career Fair
Norfolk, VA * February 17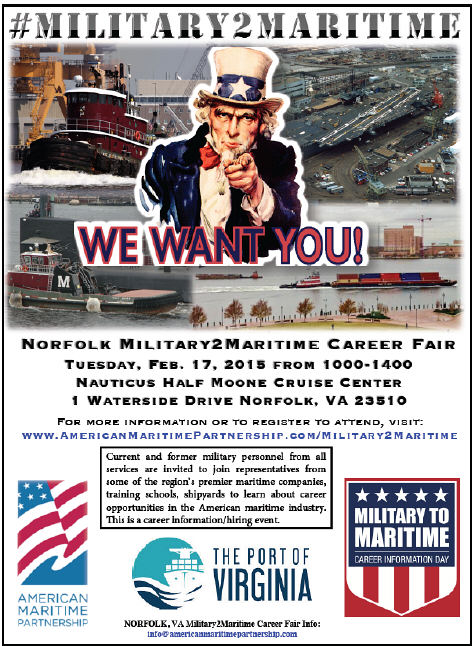 Activities include:
A job fair with recruiters and HR staff from companies large and small, as well as maritime unions and schools;
Seminars on marine licensing and transition; and
Opportunities to visit with crew members and industry personnel who are veterans and made the transition to the maritime industry.
Register now!
Military to Maritime career information events provide veterans across the country with an opportunity to maximize their professional strengths and learn about jobs that support families and help build communities. Current and former military personnel from all services can meet with representatives from some of the region's premier maritime companies, training schools, unions and others to learn about career opportunities in the maritime industry. This is a career information/hiring event and is FREE for current and former members of the military. No prior maritime experience is necessary and all services are welcome.



How To Get A Civilian Job In The Navy
Click below for a "gouge sheet" assembled by the Naval Acquisition Career Center
Click Here for Navy Job Tips